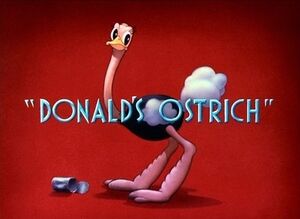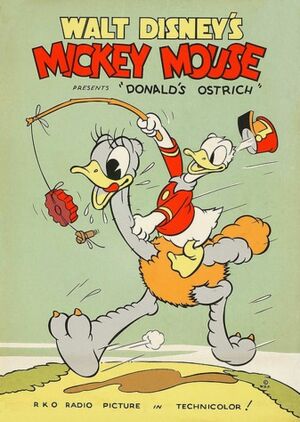 Donald's Ostrich is a Donald Duck short released 10 December 1937.
Summary
Donald Duck is a custodian at a whistle stop train station and is responsible for loading and unloading luggage. A train passes the station and dumps a large pile of luggage on Donald without stopping. Donald finds that one of the crates contains an ostrich and tied around its neck he finds the following note: "My name is HORTENSE. Please see that I am fed and watered. P.S. I eat anything!"
Hortense begins to eat anything she can find at the station starting with the message. She then eats a concertina, a wind-up alarm clock and several balloons. This gives her hiccups which Donald tries to cure by scaring her.
Finally Hortense swallows Donald's radio and her body begins to react to what is playing on the radio. Donald realizes Hortense has swallowed it and grabs a pair of forceps to pull try to it out, but ends up getting the concertina instead. When Hortense reacts to a broadcast car race, Donald is unable to control her. Hortense finally crashes through a door which at last knocks the radio out of her, but she also gives Donald the hiccups.