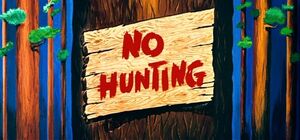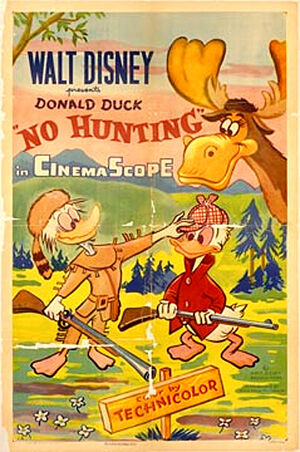 No Hunting is a Donald Duck short released 14 January 1955.
Summary
Donald Duck is enjoying a luxurious meal under a large portrait of his pioneering grandfather. The narrator notes that Donald's life is significantly easier than his ancestor who had to hunt in order to survive. Donald then sees that hunting season begins the next day and, possessed by the spirit of his grandfather, decides to participate.
When Donald arrives at the hunting grounds that evening, he finds it extremely overcrowded. Local residents go into hiding as vendors set up shop. The deer in the forest leave the area after seeing loads of litter wash downstream.
The precise opening of hunting season that night unfolds with trench and tank warfare, amphibious landing craft, and hunters parachuting into the forest. At the end of the day, the discouraged hunters trudge home across a war-torn landscape. Yet the narrator notes that the day was "not without game," as Donald's grandfather presents a cow, taken from a local farm, which had the word "cow" painted on it so the hunters would not confuse it for a deer.