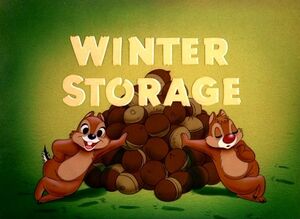 Winter Storage is a Donald Duck short released 3 June 1949.
Summary
Chip and Dale are low on acorns for the winter. They see park ranger Donald Duck seeding a clearing in the oak forest. They set out to steal his large sack of acorns it, but Donald easily takes it from them just as they enter the ground entrance to their tree. He then places a box trap baited with an acorn. Despite Chip being fully aware of the ruse, they both are caught in it. While the chipmunks argue with each other, Donald looks on amused and provokes them to fight.
The chipmunks see Donald and run for the acorns. Donald stands in front of the tree entrance to keep the acorns from going inside. Chip and Dale then pick up hockey sticks. Using teamwork, they beat him at his favorite sport, and finally flatten him with an overwhelming acorn "stampede". A dazed Donald hits in one last acorn and laughs at the chipmunks as if he has beaten them. Dale concludes that Donald has lost his mind.